Creating a private and secure backyard oasis often comes down to the details, and choosing the right fence extension kits can be the finishing touch that transforms your space. Whether you're looking to enhance privacy, improve security, or simply add an aesthetic touch to your garden, the right fence extension kit can make all the difference. Here's how to choose the best option for your home.
Assess your needs
Begin by evaluating your primary need for a fence extension. Is it privacy from prying eyes, security to keep pets and children safe, or an upgrade to your home's exterior design? Each need will guide you towards a different type of fence extension kit. For privacy concerns, solid panels without gaps may be your best option, whereas, for security, extensions with a sturdy, anti-climb design might be ideal.
Measure your space
Accuracy is key when ordering your fence extension kits. Measure the length of your existing fence to determine how many extension panels you will need. For a standard Colorbond fence, include the space between the posts. If the fence is brick, wood or old-style Colorbond, the total length of the fence can be used. Don't forget to take into account any unusual angles or curves in your fence line that may require additional hardware or custom solutions. For sloping blocks be sure to purchase a larger kit, as this can be cut to an angle with tin snips or an angle grinder.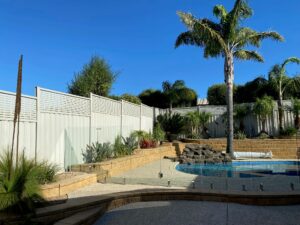 Understand regulations
Before making any decisions, it's crucial to understand local zoning laws and homeowner association regulations regarding fence heights and styles. Ensure that the fence extension kits you are considering comply with these rules to avoid any legal issues or fines.
Match your current fence
For aesthetic harmony, you'll want to match your extension kit with your existing fence. This includes the design, material, and colour. Many manufacturers, like Screenline Fence Extensions, offer a variety of colours and styles to complement your current setup.
Quality and durability
Select a fence extension kit made from high-quality, durable materials that can withstand the elements and the test of time. Look for products that are designed to resist rust, decay, and UV damage to ensure that your investment is protected.
Easy installation
Fence extension kits should be user-friendly, allowing for DIY installation without specialised tools or extensive experience. Look for kits that come with clear instructions and all the necessary components included.
Maintenance
Consider the maintenance level you're willing to commit to. Some materials may require regular treatment or painting, while others are low-maintenance. Your lifestyle and the time you're willing to invest in upkeep will influence your choice.
After-sale support
Ensure the company you purchase from offers good after-sale support. This includes assistance with installation queries, additional parts if needed, and a warranty for peace of mind.
Budget
Finally, balance all the above factors with your budget. Fence extension kits come in a range of prices, and it's important to find a cost-effective solution that doesn't compromise on quality or your specific needs.
By considering these factors, you'll be well on your way to selecting fence extension kits that not only meet your requirements but also add value and beauty to your home. Remember, the right extension can do more than just add height; it can elevate the entire aesthetic of your outdoor space. Contact us today at Screenline and find the right extension kits for you.